Meet Marketing CloudNeubrain — Your Lead Management Solution
Did you know that leads contacted within five minutes are 90% more likely to turn into sales? Without an effective lead management solution, it's hard to organize, prioritize, and follow up with leads. Fortunately, MarketingCloudFX (MCFX) —exclusive lead management software available to WebFX clients — can help you turn leads into more sales and revenue for your small or midsized business (SMB).
Why do I need lead management software?
If you want to separate your business from the pack, you need effective lead management and tracking.
A top lead management solution like MarketingCloudFX helps you streamline your conversion funnel, so you can get the best return from your marketing investment. We specially-engineered MarketingCloudFX to help lead-based businesses manage, track, follow up with, and grow valuable leads — and ultimately revenue.
WebFX is a proven leader at driving leads for clients in numerous industries. In the past five years, we've driven more than 6 million leads and $2.4 billion in revenue for our clients.
Don't take our word for it, though. Hear what WebFX clients have to say about our digital marketing and lead management solutions.
Are you ready to start optimizing your site with lead management solutions? Contact us to chat with an experienced strategist from our team.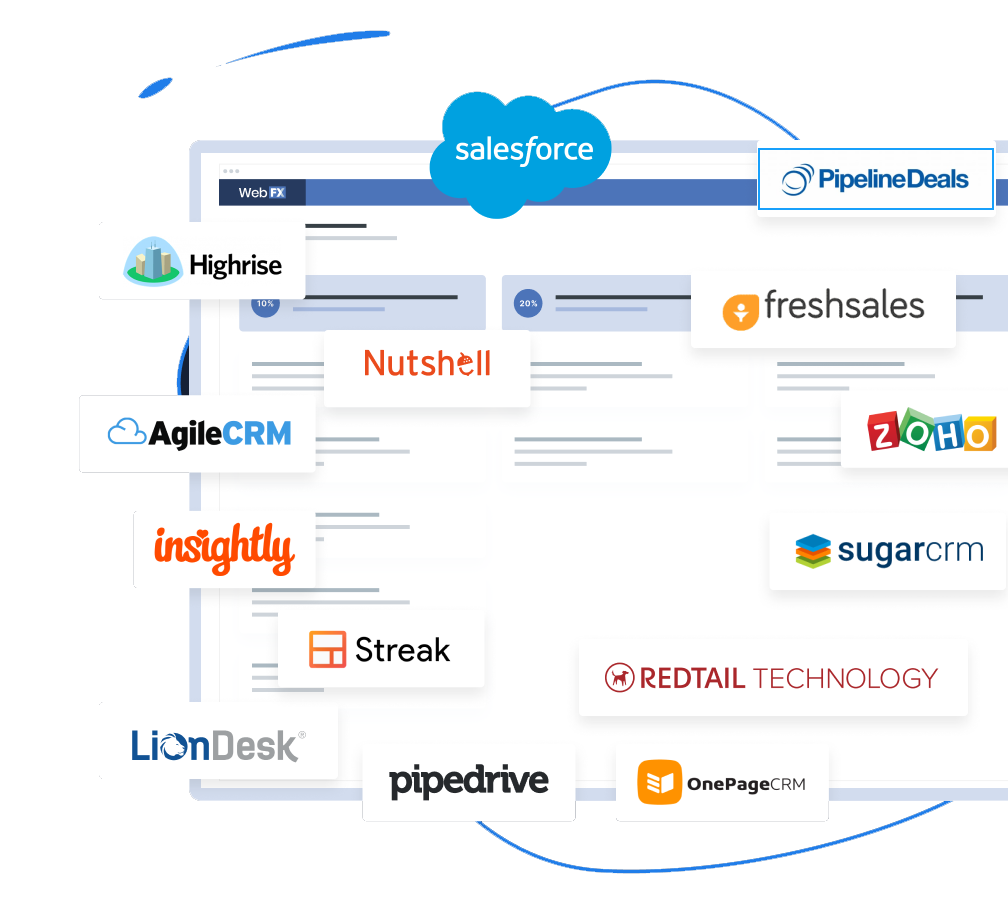 Video: MarketingCloudFX Lead Management Software
Want to see MarketingCloudFX in action? Click below to watch the video!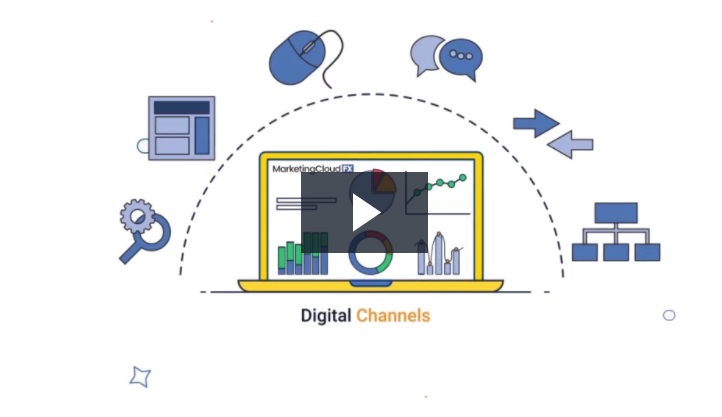 MarketingCloudFX features to help you manage leads like a pro
Curious what makes MarketingCloudFX top-of-the-line lead management software? Here are just a few features, designed to help SMBs like yours manage and grow leads.
Built specifically for SMBs, CRMROI is our proprietary customer relationship management (CRM) software.
CRMROI flawlessly integrates with MarketingCloudFX and allows you to:
Automatically track marketing return on investment (ROI)
Track the entire lifecycle of your leads from their first interaction to purchase
Effectively manage your sales pipeline
Earn more leads, sales, and revenue

Part of our MarketingCloudFX suite, LeadManagerFX allows you to seamlessly track and manage leads and phone calls.
LeadManagerFX gives you real-time insights into:
How leads arrive on your website
What pages leads visit
What campaigns drive the most leads and phone calls
And more
With our easy-to-use LeadManagerFX dashboard, you can quickly access vital lead information to make follow up a breeze.

CallTrackerFX — also part of our MarketingCloudFX software — lets you accurately track online ROI by generating and attaching phone numbers to marketing campaigns.
This means you'll never have to guess which campaigns generate the most leads and revenue, and you can designate more spend to channels that earn you the best results.
With CallTrackerFX, you can:
Track phone call sources
Listen to transcripts
And so much more
CallTrackerFX also integrates with Google Analytics to give you a comprehensive view of your lead data — all from a single dashboard.
Easily follow up with leads and move them further down your marketing funnel with SchedulerFX, our appointment scheduling tool.
With SchedulerFX, you can easily access lead data and manage touchpoints to meet leads when and where they need you most.
Stop losing leads and revenue due to ineffective lead management with SchedulerFX and the rest of our suite of lead management solutions.
How much does lead management software cost?
CRM Integration Built In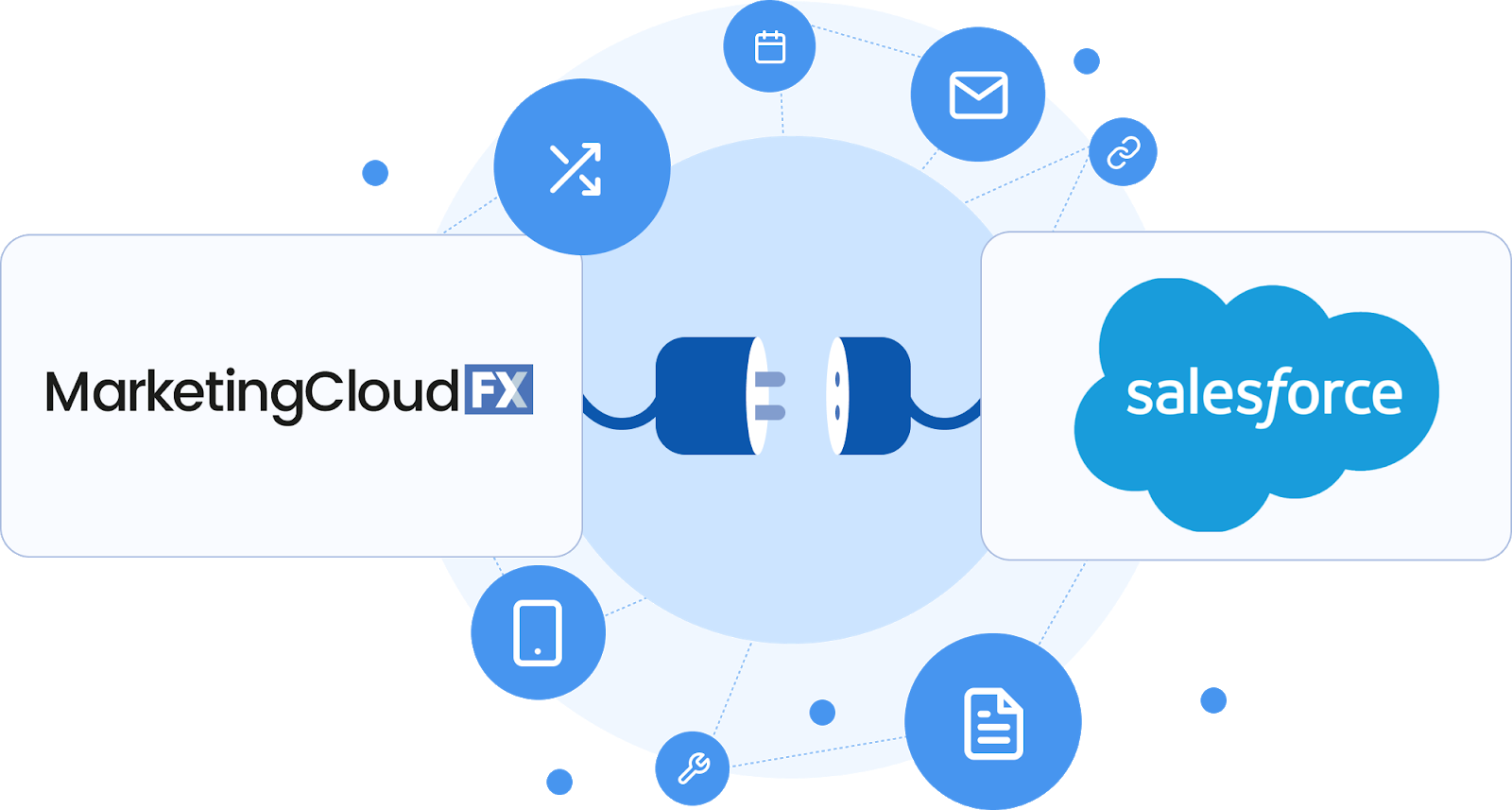 Use the data stored in MarketingCloudFX to level-up your Salesforce or CRM setup. Pull in key data points like calls, lead journey, source, medium, and company information to add value to your existing CRM. This end-to-end integration allows you to generate accurate CPA numbers for your business. You can also start automatically pushing call logs, website visits, and more data points into Salesforce.
Let us know how to get back to you.